digitalpercept.com » Entries tagged with "Business"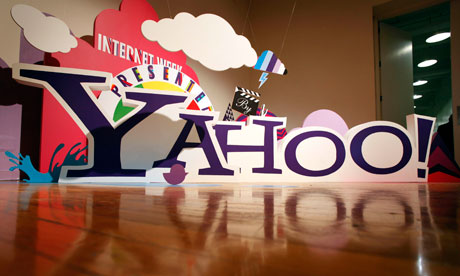 This article titled "Yahoo 'targeted for buyout'" was written by Charles Arthur, for guardian.co.uk on Thursday 14th October 2010 15.13 Asia/Calcutta
Yahoo is being targeted by private equity companies, two years after an audacious – but unsuccessful – bid from Microsoft.
Internet and media companies including AOL and Rupert Murdoch's News Corporation are understood to have been approached to find out whether they would look to buy Yahoo, presently valued at .56bn (£12.83bn) and employing 13,600 people. Shares in the company rose 9.5% on the rumours, which suggest that some of the approaches have been led by Silver Lake Partners, a quoted private equity company.
Any bid would require Yahoo to unload its 40% stake in Chinese e-commerce company Alibaba group as well as its 34.5% stake in Yahoo Japan, one source told the Reuters news agency.
The talks reportedly began earlier this month but have intensified in recent days, though no formal approach has been made to Yahoo.
Though it is a huge web property, with 2.9bn daily page views and around 380m daily visitors, Yahoo is a distant second in the search engine stakes in the US to Google, it has been struggling to find both revenue growth and identity since the Microsoft bid in January 2008, which fizzled out amidst recriminations by the board.
Jerry Yang, a co-founder who was then chief executive, was forced out and replaced by Carol Bartz, a Silicon Valley veteran, who has brought renewed focus but little sense of identity to the company.
Its shares are far off their five-year high of more than and there has been an exodus of senior managers in recent months.
The Blackstone private equity group had also been pitched the idea but was not currently working on a Yahoo deal, a separate source told Reuters. News Corp, AOL, and Yahoo declined to comment.
Once dominant in search, Yahoo has been overshadowed by Google's growth and its market value is now little more than a tenth of its rival.
Analysts value Alibaba at between bn and bn, meaning Yahoo's 40% stake is worth up to bn. Disposing of those assets – which some of Yahoo's investors favour – would help drastically reduce Yahoo's market value to about bn, making a buyout deal more feasible.
Analysts said disposing of Yahoo's Asian assets might be a problem.
"An Alibaba share sale is not easy to achieve. It is not a small deal and obviously it would be hard to calculate the valuation to the benefit of all parties," Wallace Cheung, an analyst with Credit Suisse in Hong Kong told Reuters.
AOL could benefit from the deal: it is keen on gaining scale and snagging content to rekindle growth. A report in the Wall Street Journal cited sources that said private equity firms were exploring the possibility of teaming up with AOL on a joint bid, which could give AOL the content and online eyeballs it needs to become a news and entertainment powerhouse.
One scenario could involve AOL combining its operations with Yahoo in a reverse merger – again after Yahoo sells its stake in Alibaba.
Bloomberg reported that Yahoo is working with Goldman Sachs to help defend possible takeover approaches, citing three sources.
Whatever form it takes, any deal would likely be a far cry from the .5bn, or a share, offer that Microsoft made for Yahoo in 2008 and which was rebuffed by Yahoo's co-founder and then-CEO Jerry Yang, analysts and investors said.
That bid was rejected by Yahoo on the basis that it undervalued the company's long-term prospects – but the analysis that suggested that was later found to have been flawed. Nevertheless, Yang and the board of Yahoo relied on it to try to force Microsoft to bid up its offer, a move that Steve Ballmer, the Microsoft chief executive, eventually rejected.
Ironfire Capital's Eric Jackson, who was involved in an activist campaign directed at Yahoo during the time of the Microsoft acquisition talks, said that even a a share offer for Yahoo – which would represent a nearly 40% premium over Tuesday's closing price – might encounter resistance from some of Yahoo's major shareholders.
"There would be some large shareholders in Yahoo that wouldn't like that, they wouldn't view that as an attractive exit for them," said Jackson, who no longer owns Yahoo shares.
guardian.co.uk © Guardian News & Media Limited 2010
Published via the Guardian News Feed plugin for WordPress.
Filed under: News
This article titled "Will Apple surpass Exxon to become the world's biggest in market capitalisation?" was written by Charles Arthur, for guardian.co.uk on Thursday 14th October 2010 21.09 Asia/Calcutta
If past trends are any guide, then some time in the next few months, Apple will become the largest company in the world by market capitalisation – passing the mighty Exxon corporation, which is presently valued at 1.2bn, compared to Apple's 4.2bn. (Microsoft, since you ask, is valued at 9.3bn.)
Remember that market capitalisation isn't about profit; it's about the share price multiplied by the number of outstanding shares (which is how one reaches a valuation for Facebook, or any small company when venture capitalists buy a chunk; or for any publicly-listed company). It can be described as the market's guess at the net present value of the total future profits of the company.
In the case of Exxon, it's been a tough couple of years; its share price has drifted down. Meanwhile Apple, with the iPod, iPhone and most recently iPad, has been going from strength to strength. (Apple has even passed PetroChina, formerly the world's biggest by market cap, presently worth about 2bn.)
How will we know when it's happened? Well, Apple has 913.6m shares outstanding (issued); Exxon, 5.092bn. A quick bit of maths shows that when Apple's share price reaches or exceeds 5.573 times that of Exxon, its valuation is also greater.
At present, it's sitting just below the 5.0 mark – so the differential needs to grow by another 10%, though WolframAlpha suggests that that could happen by January, based on current trends. (The picture shows a "random walk" forecast based on the share prices' previous movements.)
Exxon has of course come a long way down from its peak – in 2009 it touched about 0bn in market cap. But for Apple, it's been an enormously long way back from 13 years ago, when it was valued at just bn in May 1997, "reflecting Apple's loss of market share in an increasingly Windows-dominated world."
How things change. Though of course for Apple if it does take on the mantle of the world's most valuable company, there's only one way to go subsequently.
And meanwhile we might wonder: if Exxon is falling, where is the new energy company – based on wind, solar, nuclear or something else – to replace it? When there's a suitably big company that doesn't rely on extracting fossil fuels for its revenue, we'll know we're in a new energy paradigm.
But for now, keep watch on that Apple/Exxon ratio. No doubt there will be some glasses raised in Cupertino if it hits 5.5. And with Apple due to announce quarterly results on Monday evening – during which it will announce how many more million iPads and iPhone 4s have been sold – it might be worth watching that ratio when the US markets open on Tuesday lunchtime.
guardian.co.uk © Guardian News & Media Limited 2010
Published via the Guardian News Feed plugin for WordPress.
Filed under: News