digitalpercept.com » Entries tagged with "Digital media"
This article titled "Seedcamp: 20 top ideas from Europe's talented dev pool" was written by Jemima Kiss, for guardian.co.uk on Thursday 11th August 2011 23.35 Asia/Calcutta
Twenty pitches is a lot to sit through, but it's a great way of taking the pulse of some of the most promising ideas trends and talent in the startup community. As ever, a good pitch doesn't mean a good product, and vice versa. There were presentations today that were slick and funny but failed to succinctly explain the product, while otherwise were softly spoken and modest but quietly impressive at the same time. These three sites, plus 17 others, are buried in intensive mentoring sessions all afternoon.
Some, like Croatian Farmeron, were both. The team, most of whom have grown up with families involved in agriculture, have achieved the increasingly hard task of identifying an as-year undisrupted market with massive potential for what I hesitate to call a Web 2.0 interface – light, easy to use and consumer focused service. Farmeron provides an adaptable data management tool for farmers with a delightful, fun interface a world away form dull, agro-industry rivals – of which there are only two. Very impressive.
Anything that tries to solve the burden of email is worth watching, and ReplyDone is trying to help by learning how you respond to common emails and intervene to automate those replies. Simple, and brilliant. It's starting life as a Gmail plug in but there's potential here, at least until email is usurped by something that was actually designed to handle our communications, rather than something that just ended up doing it.
Italian site iubenda is a customisable, embeddable tool for the small print on your website. Great idea, bypassing costly lawyers. For most smaller websites, that will be a real benefit.

Photo by c3o on Flickr. Some rights reserved
Mini Seedcamp, London
• CityMapper (London, UK)
Travel tool. CityMapper combines buses, tubes, bikes, taxis and walking to suggest the best routes through the city. How is it different to otters apps on this space? By focusing on design and usability, claims co-founder Azmat Yusuf, a VC turned entrepreneur. With partner Mattias Linnap, who is studying at Cambridge for a PhD in location tracking, CityMapper claims to have a better routing algorithm than the competition, creating use cases around navigation. There's potential for building an ad network around movement in cities, using navigation is a platform. Expanding in the US would be boring; CityMapper wants to pursue growing markets in megacities like Istanbul and Jakarta.
• ComodIT (Liege, Belgium)
IT management tool. ComodIT co-founder Laurent Eschenauer believes IT should be comoditised, greatly simplifying management of corporate IT systems through a web user interface. "The idea is to formalise, integrate and orchestrate your company's IT system," said Eschenauer, who says ComodIT has started direct sales and is targeting mid-sized firms. A software-as-a-service version is due out next year and ComodIT is hoping to stake out a chunk of the bn IT management market.
• ContactUsPlus (London, UK)
Customer service tool. Ever contacted an e-commerce website but had no response? ContactUsPlus estimates that 27% of consumers have had that experience and 45% have abandoned their shopping carts. In the context of a market that has lost £12.8bn in sales, there's a big opportunity to help firms provide the customer support to complete those sales. ContactUsPlus provides a toolbar that can be added to the top of site, explained co-founder Adi Ben-Ari, inviting consumers to email, live chat or speak to a customer service rep. Response rates are shown to the customer, along with average response time. "We think this adds a new dynamic, a game dynamic, to sites to make them more responsive," said Ben-Ari.
• Crowd (Paris, France)
Photo-sharing service. "Crowd is the closest thing to ubiquity until we sort out teleportation," begins Gabriel Hubert, with no shortage of gusto. Crowd lets users experience and share locations through real-time, geo-tagged photo sharing. There's potential for geo-targeted ads, and to bring in online newspapers who could offer a live feed from professional photographers at news events. Crowd currently has 80 beta testers. Strapline: The World. Live. Now.
• CubeSocial (Basingstoke, UK)
Professional relationship management for social networks. CubeSocial's pitch is about new ways for professionals to win new businesses, and they think the way to do that is through social media. CubeSocial filters the most relevant content from networks, filters out the noise, "join the right conversations" and form the right relationships. Financial services, lawyers, accountants, consultants – these professionals are the target group. There's a focus on Twitter and LinkedIn and co-founder Linda Cheung (former Morgan Stanley executive director) and Mark Bower (former lead program manager at Microsoft) think there's far more potential in social networks than pushing daily deals to Facebook fans.
• EarningsCast (London, UK)
Shareable, interactive media tool for earnings calls. Earnings calls are the most valuable interaction between investors and a business, but calls are not very accessible, recordable or personalisable. EarningsCast's attempt to solve this is a management system that lets investors organise a portfolio of earnings calls with private chartroom, integrated live commentary from social networks, and shareable and embeddable files. Co-founder Madhusudana Ramakrishna said the plan is to make money by running advertising around these calls with a freemium model, and the private beta has engaged 3,000 companies so far. Public beta starts next month.
• EnergyBob (Munich, Germany)
Smart heating meter. This is a smart domestic energy control system, adjusting your heating through The EnergyBob server which talks to Google's Latitude's API to determine when you're on your way home, and when the heating needs to come on. The price is €99 installation and then €9 per month. There are rivals, but a rich potential market of 300m European homes and partnerships with European telcos and utility firms.
• Farmeron (Osijek, Croatia)
Agricultural data management tool. The Croatian team behind Farmeron want to help farmers struggling with boring data management, putting a useable, simple interface on a business management tool. The team come from families with agricultural backgrounds but are trained programmers and have already raised €12,000 funding. In an industry where there are only two major competitors there's the opportunity to exploit a huge market worth .34bn a year in agriculture and food advertising alone. Farmeron will offer animal and grain management (down to a field that lets users assign names to each animal. Nice) and production planning and performance. The tea is planning to launch the site latter this month.
• Fractal (London, UK)
Email design tool. Fractal wants to make it easier to build and distribute email newsletters that work across multiple email clients. Co-founder Abs Farah said it's a massive problem that isn't addressed by current solutions, and is providing the service to marketing clients who can package Fractal as one benefit to their clients, as well as direct to designers. Fractal's beta version launched eight weeks ago and version two is due out in two weeks. Farah quoted LinkedIn Reid Hoffman: "If you're embarrassed by your first version, you've launched too late." "And we're terribly embarrassed," said Farah. Fractal has finally settled for a cost of a 0 base fee, plus 0 per 1,000 API requests and a subscription model for regular users.
• Gnergy (Sofia, Bulgaria)
Energy efficiency service. "Our vision is to enable people to make better energy efficiency decisions," said Gnergy co-founder Martin Gogov. Current solutions demand expensive smart meters or geeky engineering apps. Gnergy, however, asks questions to build a profile of your home and suggests steps for energy efficiency. There's a gameification element where customers are motivated to create the most efficient home possible. Gnergy is freemium: free for consumers, and paid for industry professionals.
• iubenda (Bologna, Italy)
Small print for websites. Any website in the world has a legal obligation to respect privacy, but most companies have the choice of either paying an expensive lawyer or copying and pasting privacy terms from another site that might not be relevant. iubenda offers a customisable, easy to embed tool to frame legal T&Cs for websites, and charges a small subscription fee. "We make lots of money!" co-founder Andrea Giannangelo gleefully exclaims. Six weeks since launch iubenda has already delivered to thousands of sites. And the goal: Conquer the footer of every website in the world.
• Myows (Singapore)
Copyright management. Both founders Max Guedy and Chris Human have experienced their deisgn work and photography being reappropriated, but found it expensive and time-consuming to resolve infringement the traditional way. Myows – my original works – lets users store their copyrighted material (photos, artwork, music, videos) in one place, prove ownership of those, organise contracts that prove ownerships, manage rights and pursue infringements. In beta test until now, Myows is already storing 18,000 registered works and has solved 72 infringement cases.
• OpenSignalMaps (London, UK)
Real-world maps of mobile signal coverage. Coverage is unpredictable yet vital for mobile users, but coverage maps from operators are useless. OpenSignalMaps is crowd-sourcing coverage information instead – in real time, and for free, explains co-founder Sina Khanifar. OpenSignalMaps's Android app has had 800,000 downloads, and the site 40,000 site visitors per month so far. But the team of four Oxford physics graduates wants to do more with this data. For B2B, data could be sold back to the networks, who typically outsource this kind of data research. iPhone and Blackberry apps are coming soon.
• ReplyDone (Vienna, Austria)
Email efficiency tool. Ben Freundorfer thinks replying to emails is a waste of time, because humans are good at creating new content, and computers are good at finding old text. So ReplyDone intelligently suggests your reply. Starting as a Gmail extension, ReplyDone will learn how you reply to common emails and suggest replies. The long-term vision is more ambitious, and doesn't represent current email systems at all but is an intelligent, auto-responding email client of the future. Amen to that.
• RolePoint (London, UK)
Employee referral platform that uses social networks. HR managers can encourage staff to refer candidates they know, including the 85% of workers who are 'passive candidates'- the ones who don't know they are secretly open to new job offers . Co-founder Chris Le Breton said RolePoint will charge set fees to its target medium-large consultancies depending on organisation size. The target is initially the US. Talent, the strapline goes, knows talent.
• Sntmnt (Amsterdam, Netherlands)
Market information service. Dutch startup Sntmnt helps pick stock to invest in by picking through market and online activity around companies and trends. Machine learning and predictive analysis tools are used to give a prediction of the "bullishness" of a particular market, accurate to 61% so far for the next 7 days. The Sntmnt team has been working on this for three months, but co-founder Vincent van Leeuwen says there's huge potential in a market where many of the rivals are academics who have tried unconvincingly to commercialise research tools.
• StorkUp (Troon, UK)
Shopping tool for parents. Shopping for baby products for first-time mums is expensive, time-consuming and expensive. StorkUp lets new mums create shopping lists and recommendations for other new mums, with personalised responses, price comparison and then allows them to buy online. Beyond birth, StorkUp wants to create lists for birthdays, school and beyond. The market is huge, with 4 million babies born in the US every year alone and an average ,000 spend in the first 12 months. Big parenting sites like Mumsnet and BabyCenter aren't product focused and price comparison sites aren't focused on specific communities.
• TransferWise (London, UK)
Money transfer service. Taavet Hinrikus was the first employee at Skype, but his latest project is a money transfer solution that avoids expensive currency exchange fees. He said he knows of a North American bank that makes 0m profits per year from currency exchange alone. TransferWise is a P2P currency exchange; users say how much they want to send and to whom, transfer the money to a UK holding account, and TransferWise transfers the equivalent amount – based on market rates – to your friend for a flat fee of £1. Most clients are ex-pats, foreign students – and there's one guy who uses the service to send his alimony payments. This time next year, TransferWise wants to be enabling £300m in transfers and will be adding support for US dollars and Swiss francs.
• Travelstormer (London, UK)
Travel organisation tool. There's an ugly truth about organising travel for your friends – it's a big burden, and they are often ungrateful, say founders Colin Armstrong and George Coltart. Travelstormer wants to make the process much smoother, helping organise the research, discussion, purchase of tickets, itinerary building and departure for travel groups of more than three. It's a very Facebook-like interface with maps for locations of hotels, voting tools to help decide on options and booking incentives that show deals available for various options. A nice touch is that the organiser gets a small commission if the group decides on the option he or she suggested – gameifying the decision making process. There's a lot of noise in the travel sector but the biggest competitor is email where most research and decision takes place.
• UntapTV (London, UK)
Mobile ad tool for TV. Why isn't TV more engaging? When we don't like ads, we find something to do for a few minutes. UntapTV wants to make ads more engaging by giving users incentives to keep watching the TV ads and interact more using their mobile, whether by entreating a competition, playing a game or giving feedback. It's fast, scalable and brand-specific, says co-founder Tee Vachiramon. Brands can customise the ad experience by using the app, tap social networks and build relationships with consumers. UptapTV has an iPhone app in alpha, is in discussion with various brands over trials and plans to make money through fixed fees or pay per interaction.
• Read: Seedcamp's Saul Klein on four years of tapping startup trends
<a href="http://oas.guardian.co.uk/RealMedia/ads/click_nx.ads/guardianapis.com/technology/oas.html/@Bottom" rel="nofollow"> <img src="http://oas.guardian.co.uk/RealMedia/ads/adstream_nx.ads/guardianapis.com/technology/oas.html/@Bottom" alt="Ads by The Guardian" /> </a>
guardian.co.uk © Guardian News & Media Limited 2010
Published via the Guardian News Feed plugin for WordPress.
Filed under: Featured, Gadgets, News, OpenSource, Reviews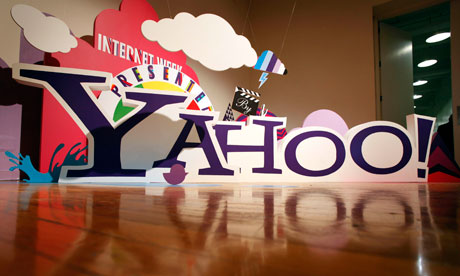 This article titled "Yahoo 'targeted for buyout'" was written by Charles Arthur, for guardian.co.uk on Thursday 14th October 2010 15.13 Asia/Calcutta
Yahoo is being targeted by private equity companies, two years after an audacious – but unsuccessful – bid from Microsoft.
Internet and media companies including AOL and Rupert Murdoch's News Corporation are understood to have been approached to find out whether they would look to buy Yahoo, presently valued at .56bn (£12.83bn) and employing 13,600 people. Shares in the company rose 9.5% on the rumours, which suggest that some of the approaches have been led by Silver Lake Partners, a quoted private equity company.
Any bid would require Yahoo to unload its 40% stake in Chinese e-commerce company Alibaba group as well as its 34.5% stake in Yahoo Japan, one source told the Reuters news agency.
The talks reportedly began earlier this month but have intensified in recent days, though no formal approach has been made to Yahoo.
Though it is a huge web property, with 2.9bn daily page views and around 380m daily visitors, Yahoo is a distant second in the search engine stakes in the US to Google, it has been struggling to find both revenue growth and identity since the Microsoft bid in January 2008, which fizzled out amidst recriminations by the board.
Jerry Yang, a co-founder who was then chief executive, was forced out and replaced by Carol Bartz, a Silicon Valley veteran, who has brought renewed focus but little sense of identity to the company.
Its shares are far off their five-year high of more than and there has been an exodus of senior managers in recent months.
The Blackstone private equity group had also been pitched the idea but was not currently working on a Yahoo deal, a separate source told Reuters. News Corp, AOL, and Yahoo declined to comment.
Once dominant in search, Yahoo has been overshadowed by Google's growth and its market value is now little more than a tenth of its rival.
Analysts value Alibaba at between bn and bn, meaning Yahoo's 40% stake is worth up to bn. Disposing of those assets – which some of Yahoo's investors favour – would help drastically reduce Yahoo's market value to about bn, making a buyout deal more feasible.
Analysts said disposing of Yahoo's Asian assets might be a problem.
"An Alibaba share sale is not easy to achieve. It is not a small deal and obviously it would be hard to calculate the valuation to the benefit of all parties," Wallace Cheung, an analyst with Credit Suisse in Hong Kong told Reuters.
AOL could benefit from the deal: it is keen on gaining scale and snagging content to rekindle growth. A report in the Wall Street Journal cited sources that said private equity firms were exploring the possibility of teaming up with AOL on a joint bid, which could give AOL the content and online eyeballs it needs to become a news and entertainment powerhouse.
One scenario could involve AOL combining its operations with Yahoo in a reverse merger – again after Yahoo sells its stake in Alibaba.
Bloomberg reported that Yahoo is working with Goldman Sachs to help defend possible takeover approaches, citing three sources.
Whatever form it takes, any deal would likely be a far cry from the .5bn, or a share, offer that Microsoft made for Yahoo in 2008 and which was rebuffed by Yahoo's co-founder and then-CEO Jerry Yang, analysts and investors said.
That bid was rejected by Yahoo on the basis that it undervalued the company's long-term prospects – but the analysis that suggested that was later found to have been flawed. Nevertheless, Yang and the board of Yahoo relied on it to try to force Microsoft to bid up its offer, a move that Steve Ballmer, the Microsoft chief executive, eventually rejected.
Ironfire Capital's Eric Jackson, who was involved in an activist campaign directed at Yahoo during the time of the Microsoft acquisition talks, said that even a a share offer for Yahoo – which would represent a nearly 40% premium over Tuesday's closing price – might encounter resistance from some of Yahoo's major shareholders.
"There would be some large shareholders in Yahoo that wouldn't like that, they wouldn't view that as an attractive exit for them," said Jackson, who no longer owns Yahoo shares.
guardian.co.uk © Guardian News & Media Limited 2010
Published via the Guardian News Feed plugin for WordPress.
Filed under: News