digitalpercept.com » Entries tagged with "Internet"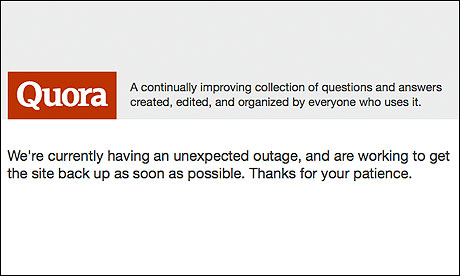 This article titled "Amazon outage hits Quora and others" was written by Charles Arthur, for guardian.co.uk on Thursday 21st April 2011 19.25 Asia/Calcutta
Sites including answer service Quora, news service Reddit, Hootsuite and location tracker FourSquare have been affected by outages at Amazon's cloud computing centre in North Virginia, which they rely on to provide their service.
Quora was unreachable in the UK on Thursday morning and afternoon. The site is entirely hosted on Amazon's EC2 (Elastic Cloud Computing) service, as are FourSquare and a number of other services. Hootsuite's response was slow, while Reddit's search service was out of action, announcing: "Amazon is currently experiencing a degradation. They are working on it."
Amazon's cloud computing status page currently shows problems at the North Virginia centre, which provides services for a number of Web 2.0 companies. The disruption started at about 1.40am on the US West Coast, or 9.40am BST, and have continued since then.
Many web-based companies, especially startups, use cloud computing services from companies including Amazon, Google and Microsoft. They are charged only for the computing power that is used, rather than having to make expensive capital investments in servers which could rendered undersized in a few months by the rapid growth that they often aim to achieve.
Amazon hasn't given any specific time by which the problem will be fixed.
The North Virginia site is one of many cloud computing centres run by Amazon, but such systems are usually designed so that an outage in one centre does not disrupt others – nor the clients using the service. Amazon has not offered any reason why the problems at North Virginia have not been routed around and the load redistributed to its many other centres.
guardian.co.uk © Guardian News & Media Limited 2010
Published via the Guardian News Feed plugin for WordPress.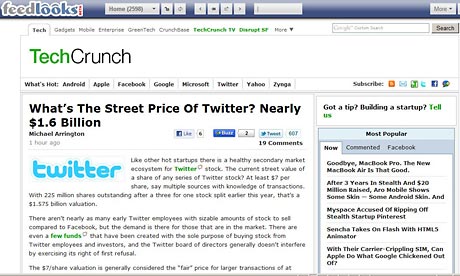 This article titled "Alternatives to Bloglines" was written by Jack Schofield, for guardian.co.uk on Thursday 28th October 2010 18.37 Asia/Calcutta
As the Bloglines RSS aggregator is closing at the end of the month, could you recommended another web-based RSS reader? I don't particularly want to use Google Reader if there is a suitable alternative.
David Dixon
In a blog post, Ask.com says it is closing Bloglines on 1 November, and that "being locked in an RSS reader makes less and less sense to people as Twitter and Facebook dominate real-time information flow. Today RSS is the enabling technology – the infrastructure, the delivery system. RSS is a means to an end, not a consumer experience in and of itself. As a result, RSS aggregator usage has slowed significantly, and Bloglines isn't the only service to feel the impact. The writing is on the wall."
This is true, but it's not the whole story. First, in 2005, Ask.com bought Bloglines and Google launched Reader, and at that point, Bloglines was much better. Since then, Google Reader has been redesigned twice and got much better, while Bloglines hasn't – the new Bloglines Beta went nowhere. Second, people have many other ways to consume RSS (Really Simple Syndication) feeds from websites. These range from powerful but complicated online services such as Netvibes (of which iGoogle is basically a knock-off) to simple email clients such as Microsoft's Windows Live Hotmail (the desktop version).
The "line of least resistance" now leads from Bloglines to Google Reader, because most people already have a Google account. When you are logged into one Google service, Google Reader is just a pull-down menu option from the Google home page. And my warnings about putting too many eggs in the same basket – where you risk losing your data if your account is hacked or blocked – don't apply to RSS feeds.
But although it looks as though the web-based reader market is closing down, leaving Google Reader with total market domination, there are still a few alternatives. If you like Bloglines' relatively simplistic approach, for example, have a look at FastLadder, or possibly the beta version of FeedShow.
Nonetheless, the main market trends are to combine RSS webfeeds with feeds from social networking sites such as Facebook and Twitter, and to display the results in a more magazine-style format. If you fancy that kind of thing, try Activorus. (Feedly also takes that approach, but in a Firefox browser window.)
One of the benefits of reading RSS feeds is that they provide lightweight versions of stories without all the website's furniture such as logos, widgets and navigation systems. Full RSS feeds mean you no longer have to go to the website and wait while your browser downloads JavaScript code, Flash and Java applets, large photos and other mostly-pointless rubbish. However, Feedlooks – which is still in beta – has now "reinvented" feed reading by letting you "read content in full visual glory without leaving the app". Feedlooks looks like a basic feed reader (with a built-in Twitter client), but when you click on a link, it shows the original story from the web site. You can try it for an hour without creating an account.
Finally, for real geeks who think Bloglines was much too ponderous, there's the open source Tiny Tiny RSS project. You can set it up on your own server (it requires PHP, MySQL, etc), which is the least transitory option. Unfortunately, the Tiny Tiny RSS demo site is no longer accepting new users, but you can hunt around for ones that people have set up on free servers.
As I'm sure you know, the key to trying different RSS readers is OPML (Outline Processor Markup Language), an XML format for outlines originally developed by Dave Winer for Radio UserLand. Before Bloglines closes, all users should click on Feeds, then choose "Export Subscriptions" and save the resulting OPML file. Your alternative RSS reader should be able to import it.
guardian.co.uk © Guardian News & Media Limited 2010
Published via the Guardian News Feed plugin for WordPress.
Filed under: Featured, News, OpenSource, Usability, Web Dev, WordPress